3 Success Practices To Eliminate Struggle
3 Success Practices to Eliminate Struggle and Overwhelm, so you can Confidently Create Success, Income and Impact
In this report you'll discover:
3 Biggest Traps entrepreneurs encounter that can prevent you from achieving next-level income and client sign-ups. (These traps are actually what keep you feeling unsure, anxious, stuck in overdrive, unable to cross that income plateau -- no matter how hard you work!)
3 Powerful Practices to enhance your intuitive knowing, align with your vision and create greater success (... so you invite and experience more gratitude and calm in your day.)
HOW TO FINALLY GET FREE of what's holding you back from the abundance you so richly deserve! (Nurture your spirit and align with your inner guidance!)
Accelerate your business growth with clarity and confidence TODAY.
"Diane opened up BIG possibilities for the expansion of everything I do." C. Makris, FL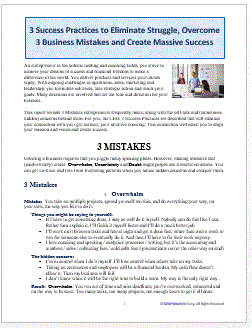 © 2019 Diane Ho-Lung All rights reserved.