5 Key Survival Skills-Kit 1
The 5 Key Survival Skills-Kit #1 - Get your copy now
Visionary entrepreneurs, like you, often encounter fatigue, stress and self-doubt while striving to make a difference on the planet.
In this report you'll discover:
5 Challenges that lead to anxiety and overwhelm, and make you feel like you'll never create success, no matter how hard you work
5 Key Survival Skills that equip you to create effective strategies and take action while honoring your intuition
How to be confident and defeat stress and uncertainty as you achieve your targets with more ease
How to be empowered to make decisions in sync with your knowing, so you can create the freedom lifestyle that you dream of
Get the PDF. The 5 Key Survival Skills - KIT #1 of The Survival Toolkit for Entrepreneurs with Sensitive Souls™: How to stop overwhelm and gain control of your income and client flow. Enter your name and email below.
Accelerate your business growth with clarity and confidence TODAY.
"Diane opened up BIG possibilities for the expansion of everything I do." C. Makris, FL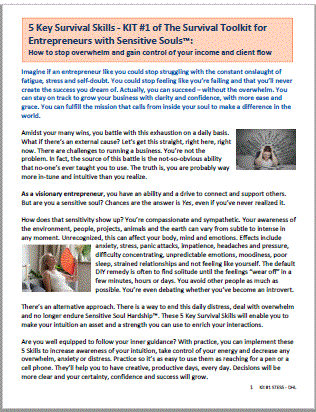 © 2020 Diane Ho-Lung All rights reserved.